For the past 70 years, we have been transporting equipment for all kinds of industrial sectors. Whether the equipment is new, already in use or second-hand, we take special care with the quality of service we provide, from preparation to fulfilment.
In some cases, our clients' equipment is hauled, whole or in sub-assemblies, by conventional means on standard flatbeds or low-loaders. And when it meets certain criteria for length, width or weight, we transport it via abnormal load convoys.
industrial machineries

in France and the rest of Europe
The transport of industrial machinery demands specific expertise, which Capelle has been cultivating for more than 70 years now. When it comes to transporting stacks, industrial dryers, press brakes, cutting machines, travelling cranes, special machines and other equipment, it is important to be familiar with the different types of machinery and to match them with the right vehicle.
Industrial building projects demand transport that is flawlessly organised in order to stay on schedule and guarantee maximum safety for both cargo and people. For that reason, we conduct feasibility studies in advance and monitor the timeline in detail with our teams.
Tank transport

in France and the rest of Europe
We provide tank transport, for tanks made of concrete, metal or plastic, on behalf of manufacturers, metalworkers, installers and fitters. For smaller units, we can optimise your costs by grouping your tanks together on a single vehicle.
For large tank transport, we use special equipment like extendable or extra-low-loaders. Depending on the diameter and length, we may transport certain tanks in abnormal load convoys. We then determine the required vehicle configuration and the best route in view of overhead clearances and other possible obstacles.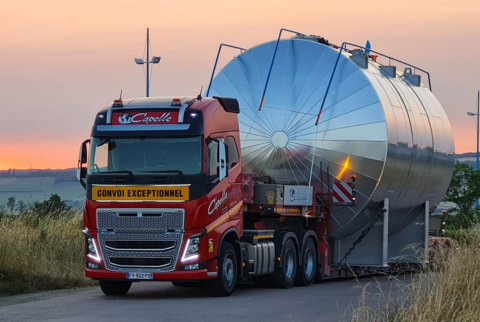 Technical and bespoke
transport project assessments
In industrial sectors in particular, equipment and machinery can be massive. In some cases, we get involved in advance of planning your transport or even before manufacturing in order to examine your transport options and advise you on the best solutions. Road surveys are carried out by our account managers. Our research department produces technical simulations to ensure all people and cargo are safe and secure. Lastly, our authorisations and operations teams complete the necessary administrative formalities, obtain the required authorisations and coordinate with local authorities.
Demander un devis
Our fleet of trailers used for the
transport of industrial equipment
Capelle Transports has a large fleet of trailers that are suitable for all transport of industrial machinery, regardless of length, width, height or weight. Our trailers include the following and more:
● 3- to 6-axle flatbeds
● Extendable, directional and widenable flatbeds
● Self-steering 3-axle low-loaders
● Extendable low-loaders with ramps
● Double extending extra-low-loaders
● Flatbeds and crane carriers that can handle 21 to 100 tonnes
● Up to 10-axles modular trailers.
Our drivers are trained on anchoring cargo and will give you advice on loading your equipment.

Comprehensive
heavy logistics

for your industrial equipment and machinery
To improve your responsiveness, reduce your servicing times and free up space at your sites, Capelle Transports offers storage, transport and loading/unloading solutions for your industrial equipment. We have locations in France and Belgium designed for this purpose, with trained teams on site.

This way, you will have access to secure solutions with minimised delivery times.
Demander un devis
Clients and references in the transport of industrial equipment
Capelle can transport new and used equipment for anyone operating in an industrial sector, including manufacturers, maintenance providers, industrial relocation specialists, forwarding agents, import/export companies, etc.
Our references include SPIE, ENGIE, Arcelor, Alstom, Meca Industries, Airbus, ADF, Bolloré, ProMaritime and more.
Capelle Transports is involved in all kinds of industrial projects, from a single machine for conventional transport to the biggest projects like building factories.