The transport of agricultural equipment requires solid expertise and adaptability. Drivers must be trained to load and unload. Transport might be carried out on a farm, but also during trade fairs and exhibitions where access might be an issue.
With this in mind, Capelle offers those in the agricultural sector conventional and abnormal load transport services to meet their requirements and representatives who are fully aware of the challenges in this sector.
Agricultural machinery, more than just
abnormal load transport
Capelle's production units allow us to take on all types of transport, from a simple load right up to the transport of equipment such as apple harvesters which can measure up to 5 metres high and 4 metres wide.
We have the capacity to transport every type of agricultural equipment: tractors, harvesters, forage harvesters, vats, tanks, various types of gear, self-propelled vehicles and dredgers for beets, seed drills, vine harvesters, and more.
Capelle Transports can also look after various types of forestry equipment such as skidders, fellers, forwarders, brushcutters and rail-road machines, all requiring expertise in abnormal load transport due to their non-standard dimensions.
We have permanent authorisation for category 1 and 2 transport, and can also gain category 3 authorisation in abnormal load transport to operate throughout Europe.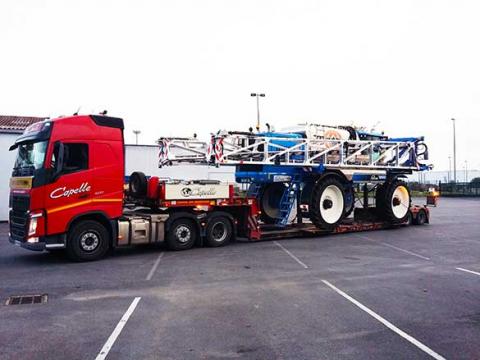 Capelle's arsenal for the
transport of agricultural equipment
To meet the demands of the agricultural sector, Capelle Transports have a wide range of equipment :
Conventional or extendable equipment carriers with single or double ramps,
Extra-low loaders with removable gooseneck (ground clearance from 30 cm to 55 cm),
Hydraulically spreadable equipment carriers with wheelhouses,
Flatbeds with ramps and wheelhouses,
Extendable flatbeds (ground clearance of 1.10 m to 1.45 m),
Crane trucks.
All our production units are fitted with an on-board computer system to guarantee tracking and traceability for our customers.
Teams of
expertly trained drivers
Capelle's drivers are continuously trained at the Euroteam Capelle Training Centre. Here, they get to grips with the specific procedures for loading and unloading agricultural equipment, and always operate in compliance with all safety standards. Depending on your needs, they can also take care of the final reassembly of the equipment on site.
Capelle's customers in
agricultural transport
Capelle Transports is trusted by many important players in the agricultural sector: builders, dealers, farmers and agricultural contractors, winemakers, companies specialising in forestry equipment, and many more.
The company takes part in exhibitions such as SIMA, the agricultural innovations show and Innov'Agri, Europe's biggest agricultural show. Thanks to their wide range of production units, Capelle Transports can put all their resources behind providing the responsiveness and know-how the agricultural sector so rightly deserves.
Request a quote