We provide haulage at every step in the processes used to detect, extract and transport oil and gas.
Our solutions cover the transport of mobile equipment like vibrators and drills to survey the terrain, as well as sub-assemblies (columns, framework, filters, rigs, skid mounts, etc.) for a fossil fuel power station, and even comprehensive logistics for oil and gas tubes and pipelines used to deliver the power supply to its end users.
In this sector, which has strict quality and safety standards, Capelle tracks and monitors training for our teams, access to regulated sites and the quality of the equipment we use.
Transport of sub-assemblies for
oil-fired power stations
Whether it's on behalf of the end user, the manufacturer, the subcontractor or the forwarding agent, we tailor our transport options to the dimensions of the parts.
Given the density of and occasional difficulties accessing power stations, when parts exceed certain dimensions, we begin by conducting a road survey. We travel to the site with an expert to assess the project's feasibility and the arrangements that will be needed in order to unload the part at the planned point of delivery.
We work with handling and lifting teams to ensure the operation has been fully and accurately scoped.
The transport of columns, towers, heat exchangers, reactors, dryers, mixers and so on is then handled by Capelle's vehicles.
Transport of
skid mounts

and custom equipment
Skid mounts are a perfect example of movable, customised equipment. Our network of agencies in France and elsewhere in Europe (Belgium, Germany, Luxembourg, Poland, Spain and UK), with more than 45 facilities in total, allows us to load equipment at a manufacturer's plant or a port and deliver it on time, whilst adhering to the constraints associated with the equipment's dimensions and fragility.
We take care of access to our vehicles and the training and qualifications that our drivers need. Loading and unloading services can be included in the overall package.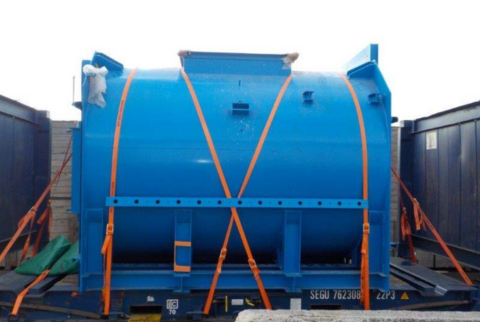 Comprehensive logistics for
oil and gas energy network projects
The portfolio of services we offer for oil and gas projects is the most comprehensive in terms of logistics. We can transport your tubes, hoses and pipelines from the factory to the final destination, taking care of everything along the way.
4PL solutions: advice, management and fulfilment in every phase of transport (before, during and after), set-up and management of global storage facilities and storage close to our clients' sites, and delivery to the destination site including specialised handling at that location.
Monitoring & tracking: our management of the inventory at your existing facilities and building sites allows us to perform real-time monitoring of your overall situation, arrivals, departures and general tracking of each tube, pipe, etc., by product reference and serial number.
Transport management: you will have access to a dedicated interface where you can request price quotes, track your orders, interact with your "control tower" contact person and monitor your transport in progress.
request a quote
Transport quality

: A priority in the sector
Capelle Transports places the utmost importance on the quality of service that we deliver. Each piece of equipment is tracked individually, and our driers have the access and expertise they need to work within this sector.
At Capelle Transports, a portion of our projects is carried out in high-stakes sectors with strict and absolutely essential constraints (nuclear, defence, petrochemicals, etc.).
In 2022, we launched a new safety project that aims to achieve a dramatic reduction in accidents in this very at-risk sector.