Road transport in the
aviation and aerospace

sectors
Capelle Transports' know-how means we can implement all aspects of your work package; in other words, we can take care of everything for aviation and aerospace transport. The goods requiring transportation for this industry are valuable both in a monetary sense and because of their uniqueness :
In aerospace transport : launchers and satellites in the civil and military sectors (Ariane Group and Airbus Defence and Space)

In aviation transport : aircraft and helicopters in the civilian sector for customers such as Airbus or Boeing, and fighter planes in the military sector for customers such as Dassault.
Our commitments : reliability, flexibility and responsiveness
Projects in the aviation and aerospace sectors are often carried out over a long period of time. With this in mind, Capelle strives to provide reliability, flexibility, responsiveness and adaptability
by permanently keeping our equipment in perfect working order,

by ensuring our teams act with the utmost care while carrying out operations,

by guaranteeing a high level of service.
From abnormal load transport to tailor-made service
Capelle Transports' research department is able to provide solutions for the design and manufacture of tailor-made trailers that are perfectly adapted to the parts to be transported in order to ensure abnormal load transport services including maintenance of the vehicles.
Furthermore, the trailers can be fitted with impact and acceleration sensors to ensurethe safety of the load being transported.
Capelle Transports is also highly responsive and can transport new parts extremelyquickly in the event of AOG (Airplane On Ground), so as to minimise any stoppage costsfor our customers.
Finally, Capelle is able to meet the needs of engine and equipment manufacturers (jetengines, aircraft engines, landing gear and other assemblies.
Thanks to its strong financial stability, Capelle Transports can also guarantee the safety of all transported loads.

An organization adapted to the transport of aviation or aerospace elements
Capelle Transports has their own aviation department. made up of specialists and multilingual experts. This department allows us to meet all our customers' needs with a single point of contact and personalised service.
Before any road convoy departure, Capelle Transports check the route to be taken andwe provide our drivers with on-board digital tools for driving assistance such as geofencing. This enables our teams to ensure road transport of the various aviation parts to the assembly sites (Toulouse for Airbus for example, or alternately Hamburg, Chester or Madrid). Capelle Transports is equally capable of taking care of run-of-the-mill conventional transportbetween the various logistics sites nearby.
As a global logistics operator, Capelle provides an "OverSeas" service.
Consistent quality of service, from
local to international
Capelle Transports has numerous agencies spread throughout Europe and located in strategic areas related to aviation and aerospace (Toulouse for Airbus as well as Hamburg, Chester and Madrid).
On a local, regional, national or international scale, Capelle Transports provide the same level of service in each of the 7 countries where the company operates, making it one of the European leaders.
Road Transport in the
'Defence' sector
In the defence sector, road transport of conventional or abnormal loads for the military involves :
Weapons on wheels or caterpillar tracks (VAB, VBCI, Leclerc tanks, Griffons andSherpas)

Surveillance devices (radars, antennas)

Miscellaneous equipment such as shelters, modules, temporary bridges, pontoons, ammunition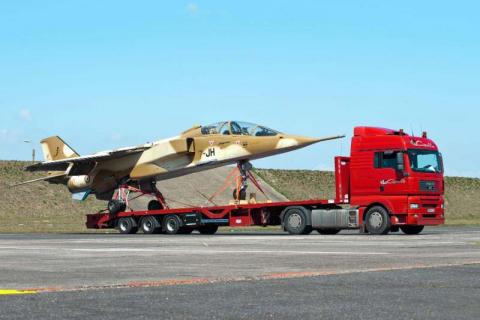 A wide range of available equipment
For planned transports, we have railed trailers to transport army railway equipment, low-loaders, modular trailers, light vehicles, and more. Capelle Transports is also able to mobilise equipment for incidentals during military manoeuvres or rapid action.
Request a quote
Highly qualified and well-trained

personnel
Capelle Transports meets all the requirements for carrying out sensitive services with trained and highly qualified personnel. We never use subcontractors. All drivers have a solid experience working on military sites.
This know-how is a considerable time-saver. Our drivers have the Rolling Stock CACES (driving safety certification) meaning they can load and unload rolling stock independently. Capelle Transports can also provide our customers with a jockey driver who can drive their own equipment.