For each man and woman who joins the big Capelle family, the Group provides all the keys to a long career in a world of excellence.
A company and skills in the
service of transport excellence
At Capelle Transports, we are particularly proud of our expertise in abnormal load transport. We strongly assert our identity and our commitment to offering a superior quality of service to our clients whilst ensuring safety and reliability at every step in the transport process. We can only do this by giving our teams a vision, a career path and clear day-to-day and long-term objectives.
The pride of belonging to a collective whose
only goal is success
For the past 70 years, we have been tackling the most daunting logistics challenges. By working together, with strong motivation and engagement, we are able to create an environment that is conducive to success. When you work for a collective, you also have the chance to develop your professional and personal skill sets. You learn from your fellow team members, which allows you to gain new knowledge and learn new work methods and approaches. Together, we will continue to promote our identity far and wide, as the pride of the French and European transport sector.
Join us
A career with
multiple possibilities in the world of transport
Here at Capelle Transports, we believe that each employee can have a gratifying, fulfilling career with us. We are proud to provide options for continuing education, to help our employees achieve their full potential. We also offer opportunities for advancement at every level of our organisation.
Many jobs in transport and logistics are available at Capelle Transports, like very heavy goods vehicle drivers, HGV and light vehicle mechanics, pilot vehicle drivers, road transport operators, charterers, sales representatives, QSE agents, transport authorisation agents, fleet managers, accountants, HR specialists, trainers, and the list goes on.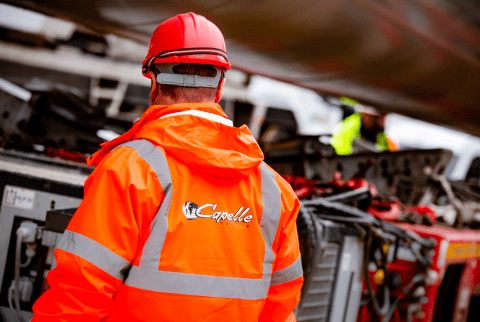 Human capital at the heart of the company
Know-how, skills, passion and transmission: these are the watchwords of the Transports Capelle teams.
Benefits and
career prospects
As a sector, road transport is constantly changing, offering many career opportunities for people who are passionate about driving and logistics. In addition to attractive benefits (mutual health insurance, great works council benefits, driver bonuses, an evolving wage schedule, etc.) and training options, the teams at Capelle also enjoy a positive, responsible work environment in which their work is valued and they are encouraged to develop and grow.
Commitment to and
promotion of women in transport
We are proud to have talented, determined women occupying key roles at our company. It is a point of pride for us to foster equal opportunities for women in every part of our company.
We are also committed to diversity at every level of the organisation. We believe this is essential to attracting and retaining the best talent, stimulating innovation and meeting our clients' expectations in today's constantly changing world.
Lastly, our training and professional development programmes include as many women as possible so we can give them the keys to their own success. Our training centre has established partnerships with local organisations to offer work placements and learning opportunities for young women who are interested in a career in this field.