Energy suppliers such as EDF or Engie need to transport the equipment that they use to produce and transport electricity. This is where Capelle Transports comes in: providing conventional or abnormal load transport of parts for wind, hydraulic, or nuclear energy production.
The transport of equipment used to produce energy requires means suited to the industry's challenges, responsiveness and a precise knowledge of this environment, which are all skills Capelle Transports has been providing to their customers for several decades.
Parts transported to produce
wind energy
Wind turbines are composed of extremely large and heavy, steel or concrete masts, pallets and nacelles. The blades alone can measure up to 60 metres in length. Wind turbines are mostly located in isolated areas which are difficult to access.
Capelle Transports will take care of transportation from the construction site or the port to the installation site, and use all means necessary to ensure safe delivery despite conditions, which can often be extreme. Thanks to our numerous locations, Capelle Transports operates in France as well as throughout Europe.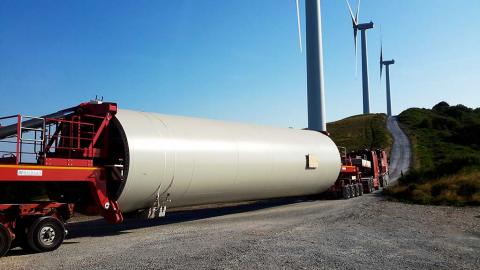 Transport of equipment used to produce
hydroelectric energy
Hydroelectric power plants are commonly located in areas that are difficult to access: in the mountains, and in areas where the roads are not necessarily geared up for the transport of goods.
In addition, the parts needed for their construction or maintenance (turbines, alternators, transformers, etc.) are rather large.
Capelle Transports uses custom-made equipment that is perfectly suited to these challenges during transport and even as far as the final installation.
Request a quote
Transportation of
electrical and fibre optic equipment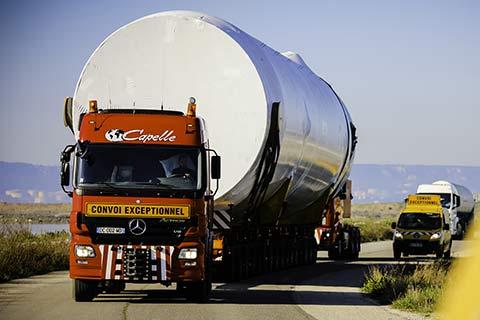 Equipment for power grids and electricity distribution infrastructure is varied and requires a degree of expertise in transportation. Generating sets, fibre optic stations, generators, electrical transformers for low voltage networks are all fragile equipment requiring the utmost care. The drums, cables and pylons used in the Very High Voltage networks represent bulky parts which must be transported on specialised trailers.
Capelle Transports has the required expertise and fleet of vehicles to transport this network equipment of all sizes.
Equipment transported for the
nuclear industry
Equipment used for the maintenance of nuclear plants (lids, tanks, turbines, etc.) can weigh up to 350 tonnes. Capelle uses modular trailers to meet these specific requirements. Nuclear is also a sector which requires a great degree of adaptability: some services will be planned and others will be immediate needs as a result of an emergency or a breakdown, etc., requiring quick response times. Capelle Transports is certified UTO (Technical Operational Unit), and our drivers for this service demonstrate the utmost rigour and discretion.
Request a quote
Transportation of
oil and gas production equipment
Before drilling, one must first ensure the presence of oil in the ground. This first stage is carried out using equipment such as vibrators or drills. Capelle Transports can look after the transport of this equipment to targeted fields.
The fields also have to be fitted with pipes that can be very long and wide. Gas is also piped from compression stations or storage sites to the end user.
Thanks to the equipment and logistics capacity of Capelle Transports, we are able to ensure the transport of these different parts by bringing a large amount of equipment into play for short periods, in order to adapt to the constraints of the sites.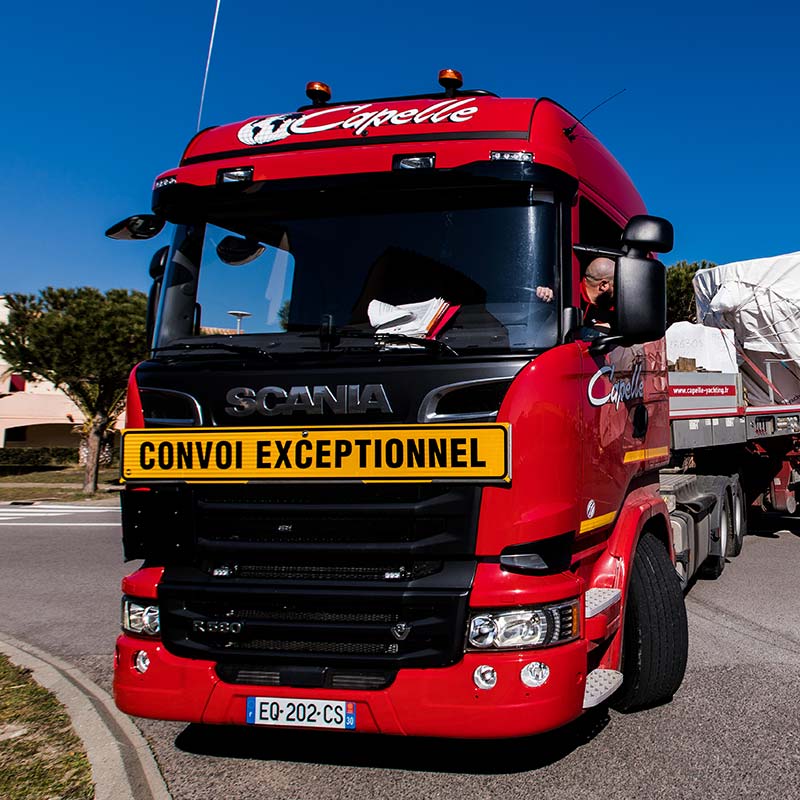 Transport of parts for
other types of energy production
These services include :
Solar energy :
the transport of photovoltaic panels and substations to the power plant,
Geothermal energy :
the transport of drilling parts, turbines and alternators,
Biomass :
the transport of tanks and methanisers.