We want to provide all our customers with services adapted to their needs and budget,and so Capelle Transports offers 3 types of rental: rental of road-ready assemblies withspecialist drivers, the rental of test loads and the rental of demarcation and signallingequipment.
Road-ready assembly rental with
specialist drivers
To cope with periods of peak activity, to meet a specific need or to outsource transport services, Capelle Transports has developed the ideal solution: road-ready assembly rental with specialist drivers throughout France, allowing you to :
Optimise transport costs : by benefiting from the tools provided by Capelle Transports, our customers maintain their investment capacity.

Benefit from the know-how of transport experts. All Capelle Transports' drivers are trained by Euroteam Capelle, the company's training centre, for driving operations, loading, unloading, crane operation and more, as well as taking the CACES, a recognised qualification in driving safe practices. All our drivers are naturally made fully aware of each site's specific safety rules and follow these to the letter.

Focus solely on your core business : trusting in Capelle's expertise allows you to simplify and focus your organisation.

Benefit from a flexible and adapted service : "made-to-measure" rental means we can always provide you with the best vehicles for the particular challenge you are facing. Our vehicles are also always up-to-date and kept in perfect condition.
Hiring a road-ready assembly with driver from Capelle Transports means you can freeyourself from the shackles of dealing with transport.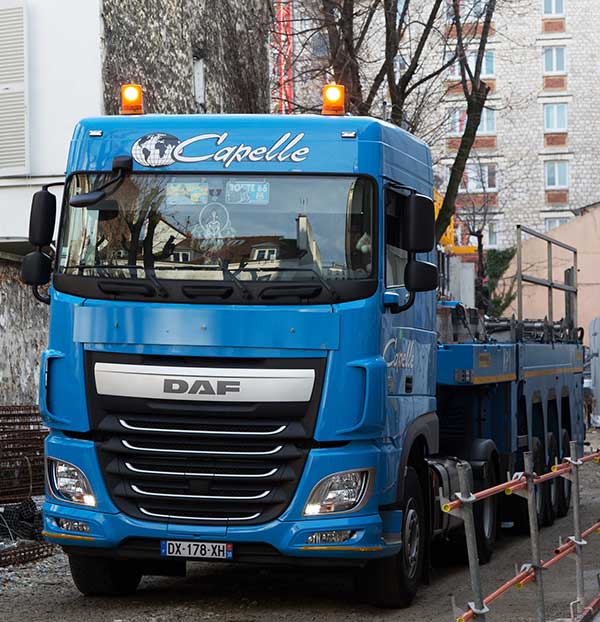 The best transport solution for every sector
Companies entrusting Capelle Transports to provide road-ready assembly rental with specialist drivers are found across all sectors of activity, including industry the construction industry or the nuclear industry. These companies can count on the availability of trailers, covered flatbeds, cranes and more, all perfectly suited to their projects and for delivery to their customers.
For defence and those in the energy sector, Capelle Transportscan provide a jockey driver to drive their own equipment.
The terms of rental with drivers
Capelle Transports offers vehicles for rent for a period ranging from 1 month to 60months. Our fleet of over 1600 registered vehicles means we are always ready to offercustomers a wide range of rental vehicles, from minivans to specific trailers. All ourvehicles available for rent come fitted with the latest innovations in geolocation, geo-fencing and geo-tracking.
Your contract with us will specify all of the specific relevant terms of service, including :
Duration (short, medium or long term),

Warranty, with provision of a replacement vehicle in case of stoppage.

On-demand services (changing the vehicles' livery, for example).
Rental of test loads for equipment testing
Lifting gear used in the industrial, construction, railway, aviation or agricultural sectors must meet regulatory requirements. The most economical and reliable solution for testing overhead cranes, gantry cranes, spreaders, forklifts, etc., is therefore the rental of test loads, also called lifting loads. Transports Marquet, a subsidiary of Capelle, has specialised in this type of rental since the 2000s. Transports Marquet exclusively uses metal test loads, which guarantee safety and ease of handling. The range of test loads consists of several sizes ranging from 10 to 500 kilos, making it possible to produce many different types of assemblies, up to 260 tonne weights. Our stocks of loads are spread throughout France and Transports Marquet will transport them to you.
Concrete and Steel Dividers : rental of road
demarcation and signalling equipment
Capelle Transports offers the rental of concrete and steel dividers or variable messaging signs, providing companies in the Public Works sector with a wide range of modular concrete and steel dividers. We can deal with the transport and handling of this demarcation and signalling equipment throughout France, and provide our customers with a tailor-made service in terms of :
Availability : operations can be carried out by day or night, on urban or motorway construction sites. We also offer the possibility of annual rent of a certain length so you can make sure you always have the equipment available.

Quality : the equipment offered for rent is state-of-the-art.

Choice : our dividers come in different lengths (from 2 to 4.5 metres), weights and heights. They are perfectly adapted to all types of sites.

Cost : you only pay for the exact rental period and you only rent exactly the length you need.
The BT4 retaining system, specifically developed for Capelle Transports, has been W5certified since 2007, giving you the peace of mind of using the best possible concretemotorway barriers. This divider can withstand the shock of a 10-tonne truck with an impact angle of 15° and a speed of 70 km/h.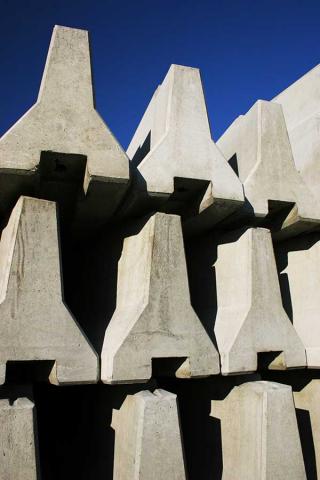 Request a quote