Underground trains, TGV trains, trams are all fragile rail-based kit requiring the utmost care during road transport. The equipment used to transport them must be perfectly suited, our clients' needs must be met, and our drivers must be trained accordingly.
Thanks to our expertise in all these areas, Capelle Transports has been one of the European leaders in abnormal load railway transport for 60 years. Since early 2019, the Van Egdom group has joined us to strengthen the range of railway services on offer in Northern Europe.
A wide range of equipment suited to
railway transport
Capelle Transports owns Europe's largest fleet of equipment for the transport ofunderground trains: 8 railed and covered trailer-carriers for underground trains as well as a wide range of other equipment suitable for railway transport :
Two 8-axle trailers for payloads up to 80 tonnes, with ramps, rails at 1 m and 1.43 m, 34 m long,

Two 6-axle trailers for payloads up to 55 tonnes, with ramps, rails at 1 m and 1.43 m, 32 m long,

Two trailers with 4 railed axles, 1m and 1.43 m with removable ramps 1m and 1.43 m, 26 m long,

One semi low-loader trailer with ramps, rails at 1 m and 1.43 m, loads up to 50 tonnes, 36 m long,

One 2-axle tram trailer, rails at 1 m and 1.43 m, loads up to 30 tonnes, 23 m long,

One modular trailer with rails, rails at 1.43 m, loads up to 50 tonnes, up to 32 m long,

One modular trailer with rails, rails at 1 m and 1.43 m, loads up to 60 tonnes, up to 50 m long.
This gives us a total of 17 trailers of 6 different models, from 14 to 50 metres long and able to carry from 20 to 80 tonnes of payload to meet all requests for abnormal load road transport from customers in the sector.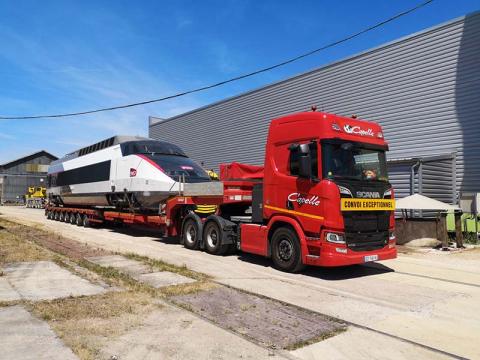 The challenges of
railway transport
The transport of railway equipment combines several challenges: the angle of inclination to be exceeded during loading, glass surfaces to be protected during transport, and so on. This means that loading and unloading must be done autonomously, and Capelle Transports' railed trailers are equipped with engine winches and ramps. In addition, to ensure the perfect cleanliness of the equipment and to protect their glass surfaces, we can offer "shrink-wrapping" operations, completely isolating the part to be carried thanks to a heat-shrinkable tarpaulin.
Request a quote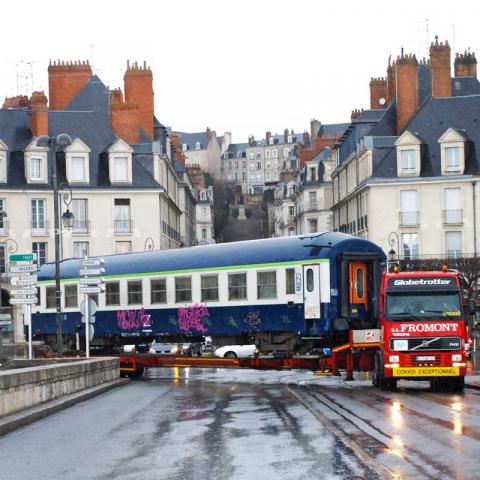 Capelle Transports is involved in the maintenance of railways on a daily basis: transport and transfer of rail-road diggers of all types by day and by night, with self-loading and self-unloading.
Capelle Transports' services are able to meet the challenges and specificities of the sector in terms of deadlines (Fast-Track projects for example) and to comply with scheduling needs for the provision of materials such as rails, sleepers, switches, signs and so on.
Specialist drivers who are
constantly refreshing their training
With railed trailers that are 20 metres long, transported railway equipment measuring 4.5 metres high and the need to unload in a city centre, it is essential to plan every step of the transport. For this reason, Capelle Railway's teams first carry out a preliminary site visit to plan the route that will be taken. They can then take care of all necessary permissions with the relevant authorities.
This ultimately means that our drivers specialised in railway transport (who are regularly trained on the challenges of this sector) can carry out the road transport in complete safety.
Request a quote
A trusted transport provider for customers in the
railway sector
Capelle Transports are trusted by customers such as SNCF, Alstom, Bombardier, Transdev, Hiolle Logistics and Siemens, as well as railroad operators such as Colas Rail, TSO, Eiffage Rail, etc.
We serve the whole of Europe and even into north Africa.