Sites in the renewable energy sector are often located in remote areas that can be hard to reach. The constraints of those sites demand both just-in-time logistics and substantial technical preparatory work. Our large fleet of vehicles is equally capable of transporting long parts like blades, tall cargo like hubs and heavy equipment like electric generators and transformers.
Transport of
oversized equipment

for wind farms and other sites
All of a wind turbine's components have outsized dimensions. The blades are long, the nacelles are heavy, and the towers are wide and tall.
Transporting each of these components requires meticulous preparation, precise organisation, trained teams and appropriate vehicles.
We will manage your equipment's logistics from the port or factory to your site. We can also assist you with lifting operations through our local partners. That way, every obstacle can be overcome. Our knowledge of power grids and our discussions with regional directorates, motorway concessionaires and other partners are major advantages in ensuring your project is a success.
Our account managers serve as liaisons with your project managers, making sure everything goes smoothly, from preliminary assessments to delivery of the last component.
Road-Survey

and preparations for wind and other renewable projects
Each project is unique. The dimensions of wind turbine parts and the departure and delivery points are just some of the factors that will influence the choice of itinerary and vehicle. To ensure everything goes smoothly, the teams at Capelle conduct assessments in advance.
First of all, a road survey is carried out to produce recommendations of one or several possible routes that could be taken. This survey, which is requested by the manufacturer's project manager, also determines the work that will need to be done along that route so the vehicles can pass.
Capelle's transport authorisations team (of more than 10 people) then identifies the final itinerary and works directly with the relevant authorities and third parties.
Specific equipment assessments (special configurations, uneven road sections, gradients, etc.) are conducted by our specialised research department, with or without the manufacturers' support.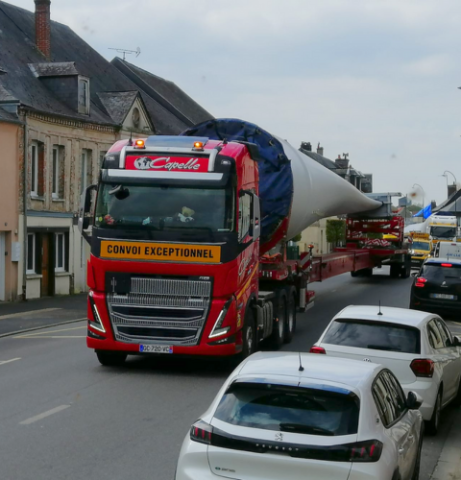 Transport of equipment for
offshore wind turbines

and

port handling
In this fairly recent sector, the dimensions of offshore wind turbine components make the road transport sub-assemblies all the more complicated. We provide transport throughout Europe for special parts like hubs, splits, pitches, etc., all the way to their assembly port.
Our modular trailers and heavy goods trailers can handle intra-port transit for offshore wind turbine parts, up to weights in excess of 600 tonnes.
Demander un devis
Transport of equipment for
solar and geothermal power plants
High-capacity solar power plants tend to be installed in remote, sometimes mountainous, areas. We can deliver the equipment needed to build solar panels, tanks, transformers, inverters, cable drums, etc., from a factory or port.
For geothermal power plants, the cargo that requires more in-depth transport expertise are drill parts, turbines and alternators.
In some cases, access constraints are compounded by the cargo's weight, so we adapt our choice of tractors and trailers accordingly.
Lastly, our fleet of standard flatbeds and lorries with self-loaders allows us to tailor our supply logistics to your needs. Our storage locations throughout France are a non-negligible advantage for ensuring your project is a success.
Transport of equipment for
biogas and biomass plants
This sector, which is now booming in France and neighbouring countries, demands special transport arrangements, like for large tanks, methanisers and burners, as well as framework, transformers and all the building equipment and machinery needed for public works.
Demander un devis