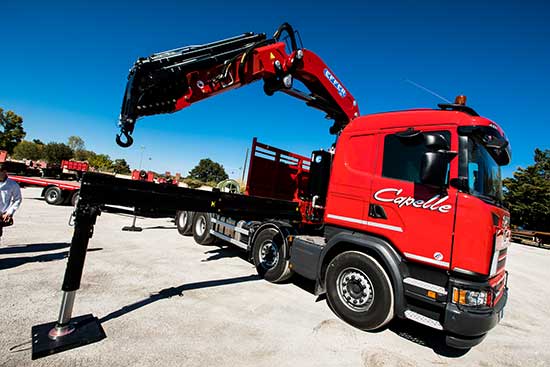 Capelle Transports offers our customers a wide variety of handling services. We can provide the necessary equipment to load and unload all types of goods using cranes.
A wide range of mobile cranes to meet
all your needs
We have a number of mobile cranes available, allowing us to combine lifting and conventional transport. This equipment is easy to manage because it can be self-loaded and self-unloaded. Capelle Transports also has a fleet of lorries mwith lifting cranes with a range of capacities, from 12 tonnes/metre to 200 tonnes/metre, as well as a fleet of specialised draw-bar lifting arm lorries. This wide range of equipment enables us to take on any lifting project, whether industrial, agricultural, electrical products, or otherwise.
Capelle Transports' mobile crane capacities
80 mobile cranes, the majority being state-of-the-art and remotely controllable,
Up to 200 tonnes lifting capacity,
Mobile cranes lifting up to 20 metres,
Team of experienced crane operators,
Located throughout France for increased responsiveness.
The advantages of mobile cranes with tricky construction site layouts
Some construction sites, for example those located in city centres, are difficult to access. Mobile cranes are particularly suitable for these tight sites with limited accessibility. It can self-unload and avoids the use of a bulkier mobile crane, affording an advantage in terms of both costs and restrictions. Having Capelle Transports on your side give you an all-in-one, flexible, tailor-made and optimized service from transport to lifting.
Handling and barrowing :
additional services
Capelle Transports can also offer horizontal handling services in addition to abnormal load transport. These operations are particularly well-suited for unloading heavy loads on sites that don't allow vertical lifting operations (power stations or hydroelectric dams, for example).
Capelle Transports also offers barrowing of heavy loads in ports or at our clients' sites.