In 1951, René Capelle created his transport company at Salles-du-Gardon in the French département of Gard, back when he was the only driver. He began by offering conventional transport services hauling coal from the mines of the Cevennes basin. For approximately 10 years, he hauled freight to and around the neighbouring areas in France. The company's operations quickly grew and diversified.
1960 - 1979 :
Beginning of
abnormal load transport projects
In the early 1960s, Capelle Transports began transporting foundry and boiler-making parts from factories in the region. The company now had four employees and the transported goods were becoming more varied. In 1970, Capelle Transports established a foothold in a 42,000 m² spot located in the village of Saint-Hilaire-de-Brethmas. By this point, there were 17 employees and the company was beginning to operate the first abnormal load transport projects – more specifically sensitive transport projects, thanks in large part to France's Nuclear Program. 1972 marked a crucial milestone: opening the first agency outside the département of Gard, in Marcq-en-Baroeul (Nord), to foster partnerships with Northern Europe.
1980 - 1999 :
Capelle Transports builds
a network of agencies across France
Capelle Transport began its expansion across France with the purchase of a factory in Comines, then a company in Linselles and the creation of an agency in Templemars (Nord). In 1989, the company established an agency in Metz to extend its business towards Eastern Europe. The year 1992 saw a new agency open in Ile-de-France and the acquisition of a company in Portet-sur-Garonne (Haute Garonne), which opened up the Spanish and Portuguese markets to the company.
In parallel with this development, Capelle Transports was becoming well-known for many reasons :
2000 - 2010 :
First major
contracts and awards

for Capelle Transports
During this decade, Capelle Transports accelerated its development throughout France with the acquisition of a transport company in Vendée and other organizations in Gard, Hautes Alpes, Rhone, Isère, Eure and Brittany. The workforce saw an increase from 266 employees in the year 2000 to more than 700 by the end of the decade. This period also marked a turning point in the history of Capelle Transports :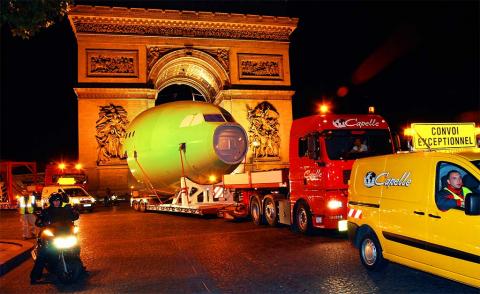 2010 - 2015 :
Capelle became the
#1 abnormal load transporter in France
Since 2010, Capelle Transports has continued to grow and open new agencies and subsidiaries in France and beyond. This continued growth began with Luxembourg and Spain in the mid-2000s, followed by theUnited Kingdom and the Netherlands. The company has successfully managed this expansion by managing its structure over time.
In 2014, the company built the Operations Centre that houses the Dispatch service, near its headquarters. The goal of this centralised service is optimisation of vehicle operations using the company's custom-built IT systems.
Goal for 2020 :

:
to become the European leader in abnormal load transport and sensitive transport
Starting in 2019, Capelle equipped its fleet with digital tablets to facilitate both the drivers' daily tasks of monitoring and managing administrative documents, and to provide a digitised service for customers.
Capelle is now present in Germany and Belgium. These latest additions complete the company's presence near all the major European ports (Antwerp, Zeebrugge,Rotterdam and Hamburg in particular) and enable Capelle Transports to be positioned as the European leader in abnormal load transport and sensitive transport.
Capelle Transports' next aim is to offer new international services while strengthening our local, regional and national presence.