With close to 500 regular clients and over 15,000 loads per year, Capelle is the European leader in the transport of mobile machinery and equipment. In response to demand in this sector, Capelle Transports offers both conventional hauling services (covering everything from mini-diggers to graders by way of cherry pickers) and abnormal load transport services (for diggers and drills, as well as tanks of all sizes). This way, we are able to meet the needs of sectors like construction, public works, quarries and the military.
Transport of mobile equipment for multiple sectors (construction, public works, the military, agriculture, etc.)
The use of building site machinery is essential for construction and public works projects, whether they involve new builds, renovations or even demolitions. Equipment sizes are typically a function of capacity (power, load, etc.). And building sites can be hard to access.
The organisation of logistics to deliver public works machinery to its destination can easily become a headache for the contractor, the company hiring out the machinery or the manufacturer. Depending on the dimensions, the equipment can be transported as a full load, less than a full load or by abnormal load convoy.
When you need to transport diggers, bulldozers, loaders, scrapers and so on, opt for the technical expertise of Capelle's logistics team.

Comprehensive logistics services for construction and public works equipment
Capelle is here to meet your needs with our full array of services including loading, storage, haulage to building sites and, when the project is done, transport of your machinery to your home base or to another construction site.
For international shipments (exports), we can handle the transport of your equipment to the port.
We have also developed special skills in the transport of road-rail diggers and accessories.

Our fleet of trailers for the transport of mobile equipment
Capelle has a wide range of conveyances for the transport of any existing construction or public works equipment, with a load capacity of 1.5 to 100 tonnes. Our trailers include the following and more:

● 3- to 6-axle flatbeds
● Extendable and directional flatbeds
● Self-steering 3-axle low-loaders
● Extendable low-loaders with ramps
● Double extending extra-low-loaders
● Flatbeds and crane carriers that can handle 21 to 100 tonnes
● Up to 10-axles modular trailers.

Our drivers are certified to operate mobile construction machinery, so they safely load and unload your mobile equipment.
Demander un devis
Clients and references in the transport of construction and public works machinery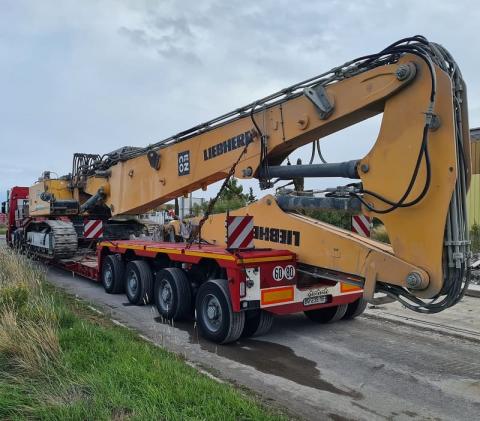 Capelle can transport new equipment for dealers and manufacturers, hired equipment or construction and public works projects, forestry equipmentand more, not to mention haulage for forwarding agents and used machinery earmarked for import/export.
Our references include Bergerat Monnoyeur, Caterpillar, Volvo, Liebherr, Komatsu and Hitachi, as well as contractors that specialise in structural earthworks for public projects, like Vinci, Eiffage, NGE, Bouygues, ONF and more.
Capelle Transports is involved in the Grand Paris Express project, as a transporter and transport coordinator and also giving the different project participants access to various types of equipment carriers and crane-carrying flatbeds.

A software application dedicated to the transport of mobile equipment
Capelle Transports can give shippers access to an application tailored to the construction and public works sector, which we have been developing internally since 2007. This application, called SIL (Système d'Information Logistique, or Logistics Information System), is available 24/7, so users can track all their cargo, request quotes and review their orders.
Demander un devis