In 2009, we even decided to create our own brand specifically dedicated to nautical transport : Capelle Yachting. Our goal was to unite the various agencies and subsidiaries specialised in boat transport located throughout France.
Boat transport
in France, Europe and internationally
Capelle Yachting brings together several coastal branches and those located near major river ports in France and Europe. We are one of the major providers of boat transport.
Capelle Yachting also offers its customers turnkey services such as loading or unloading and boat preparation before the transport by road. Thanks to our experience and skills, we can guarantee an excellent quality/price ratio as well as a fast and totally secure service.
Capelle Yachting is able to transport boats of all sizes and types such as speedboats, catamarans, yachts, both in France and abroad, and serves both individual private owners and professionals.
Capelle Transports' vehicles comply with the latest European standard, Euro 6, for environmental protection and air pollution reduction.
Request a quote
The different stages of
nautical transport
The transport of all nautical equipment
Capelle Yachting is able to transport boats of all types and sizes: ocean-going boats(sailboats, speedboats, catamarans, yachts, etc.), racing boats, barges and river boats, masts and boat moulds (hulls, bridges etc.), floating pontoons.
Road route recognition
Capelle Yachting has the necessary expertise in abnormal load transport to offer administrative entities the most suitable itineraries in compliance with the regulations in force.
Boat loading and unloading
Capelle Yachting can manage the handling of the boat starting at its mooring in harbour. In this case, a professional skipper positions it under the crane for loading. The company can also manage all handling operations related to the loading and unloading of the boat.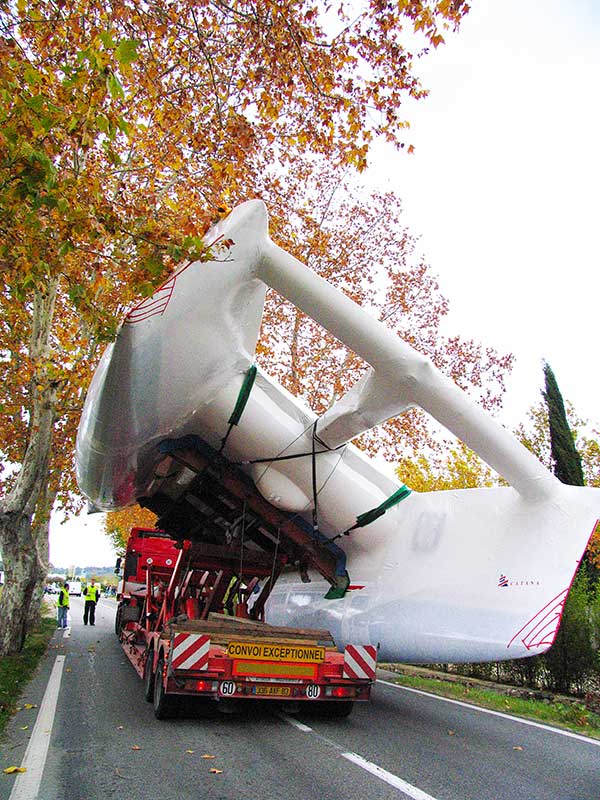 Preparation of the boat before transport
Capelle Yachting carries out all the necessary operations to prepare the boat for transport by road: packing, mast removal, mast packaging, disassembly of accessories, awnings, rudders, propellers, hoops, antennas, radars, windshields, external seats on cockpits, wind vanes, spreaders and so on.
Reassembling the accessories and launching the boat
Depending on your needs, we can reassemble everything that was dismantled for transportation. Capelle Yachting's teams can launch the boat and transport it to its mooring using a professional skipper.
Partnerships for races and regattas :
The Figaro Bénéteau Class, Vendée Globe, Tour Voile, Route du Rhum, America's Cup and more.
Major sites in the nautical sector :
Bénéteau, Jeanneau, Lagoon, Fountaine Pajot, Catana, Alubat, Dufour, Allures Yachting, B2 Marine, J Europe, Ocqueteau, Zodiac, etc.
The organisation of boat shows requires adaptability and responsiveness in terms of equipment, since it may be necessary to deliver more than a hundred boats in a week.
Capelle Yachting has the capacity to transport boats from the shipyard to the show, to manage unloading and setting up the boats. At the end of the show, we can protect the boats if needed (by wrapping them), load them up and transport them to their final destination, whether shipyard, dealer, private client, or even storage in our logistics centres.
Request a quote
Request a quote
Boat transport