Capelle has been involved in transporting dangerous goods for several decades.
In order to meet the expectations of new customers, we decided to become specialised in the transport of radioactive substances. With this in mind, we acquired Dangexpress (founded in 1982) in 2017, then created a subsidiary of the same name the following year.
Transport requirements for
radioactive substances transport
The transport of dangerous goods is governed by the ADR (an international treaty governing the transport of dangerous goods by road, and the TMD decree of 29/05/2009 introduced the ADR into French law). The ADR brings together the conditions which have to be met in France and in Europe. Dangexpress makes every effort to comply with the various facets of these regulations :
The vehicles used for transporting radioactive substances' are entirely compliant with ADR and are fitted with iron floors which are easier to decontaminate should the need arise.

Our specialist drivers are highly skilled and are all trained in ADR Base and Class 7 (transport and handling of radioactive materials). Some of them have also specialised in cistern transport. All our drivers have been trained in the rules for radiation protection to level 1 (RP1 CR, RP1 CC and RP1 RN).

Clearance and certifications : Dangexpress is ISO 9001 and ISO 14001 certified. Dangexpress is also Qualianor certified (a specialist certification body for radioprotection and the nuclear industry) with the "RP company" reference, guaranteeing effective radiation protection organisation in accordance with the regulations in force. All our drivers and support staff also have category B clearance.
Equipment used for the transport of
dangerous goods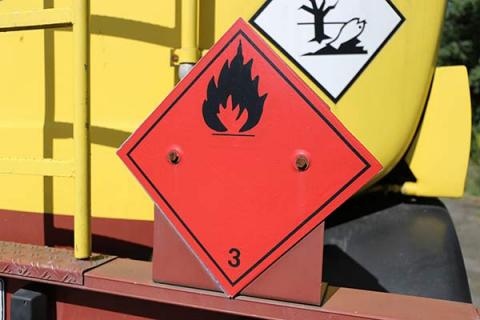 Dangerous goods can take many forms, including contaminated tools, waste, fuel, sources. They may also vary widely in size, from small 1 kg loads up to 50 tonne loads. To transport them safely and guarantee total discretion, Dangexpress is equipped with vehicles such as:
Iron floor flatbeds with turning locks,

Covered open box trailers with Halfen rail for the most sensitive materials,

Container carriers up to 45 feet long,

26 tonne carriers with tailgate,

Light vehicles,

Commercial vehicles,

Packaging for hire only for 10 or 20-footcontainers (half height, dry, open top, various packaging of all sizes, CLP type)
Dangexpress' vehicles are fitted with a geolocation system, making it possible to precisely monitor the transport of the goods. This system can also be sent to our customers, if needed.
Request a quote
Transport of radioactive substances :
experts in sensitive transport
The transport of radioactive material may be more or less sensitive. In some cases, Dangexpress will use covered trucks to provide total discretion. These vehicles are also fitted with an additional alarm and run by a double crew to ensure constant monitoring. All our drivers have "Confidential Defence" clearance and access sites thanks to their ID badge and clearance. Our teams are also in permanent contact with the in-house teams via their smartphone or tablet, custom-made by our IT subsidiary E-SI.
Dangexpress is composed of :
1 administrative and sales team,

1 RPO, a radiation protection officer,

1 CST, Class 7 Transport Safety Advisor,

1 research department : the research department is involved in drawing up plans to secure and tie down loads on the vehicles.
Our customers' go-to solution for the transport of
radioactive substances
Dangexpress operates within framework contracts or on specific, one-off missions to perform transport services from a nuclear power plant to another industrial site for customers such as EDF Setral, Framatome, Orano, CEA and more.