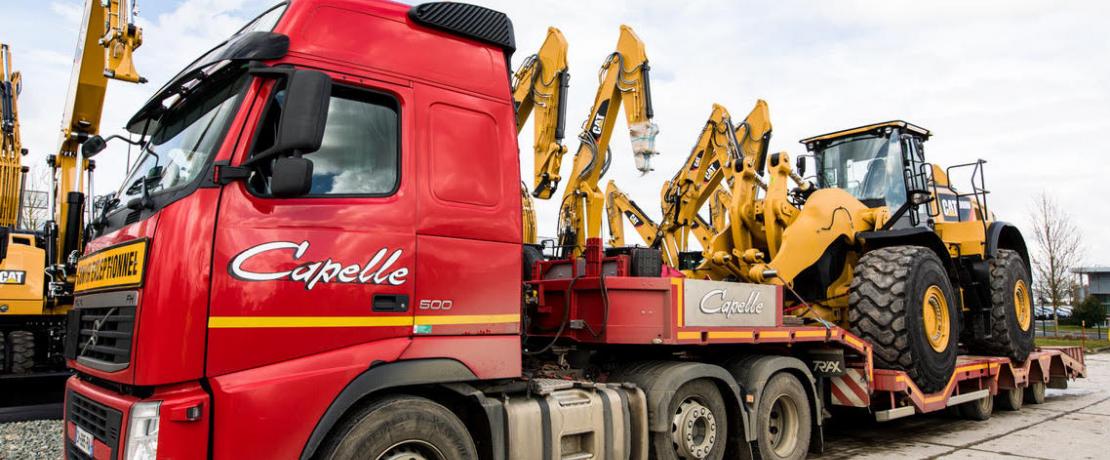 Partnership in the transport of construction machinery since 50 years
Common values - Quality & Performance
Concerned about an irreproachable quality of service, BM and Capelle were able to ensure the improvement of their performances. This is possible through the skills and digital tools development to optimize quality and reactivity of their exchanges.
Development of our construction machineries transports offer
Capelle Transports have been adapting and developing is transports offer around Bergerat Monnoyeur needs. To accomplish this Capelle Transports have been developping its agencies network to stick to BM's strategy while investing in equipment and training. This permited to develop both of our businesses. It's a win-win partnership.
Bulls, shovels, loaders, dumpers, compactors, graders, finishers, planers, etc.
We transports nearly 4,000 new or used machines from the entire existing range of our Bergerat Monnoyeur partner, both in France and internationally, and this every year!
Common development of a digital solution: SIL
Since 2007, our SIL web platform, developed by the Capelle Group's digital services company (www.e-si.fr), has made it possible to draw up quotes, record and plan orders, all while providing total traceability, secure and instantaneous.
Proximity to our client is maintained through human contact. This is for, provide advice and promote human interaction that our project manager stay listens to our client.
Regular visits are also organized to collect observations and define areas for improvement of the software.
Training, digital and transport offer: a wide range of solutions
To be more efficient, all of our vehicles are equipped with digital "Truck Connect" tablets allowing the geolocation of trucks, and the dematerialization.
With Euro Team Capelle our subsidary specialised in professional training, we have created tutorials for our drivers. They can consult them 24/7 with their tablets. They are also trained in loading and unloading of our client's range of machines.