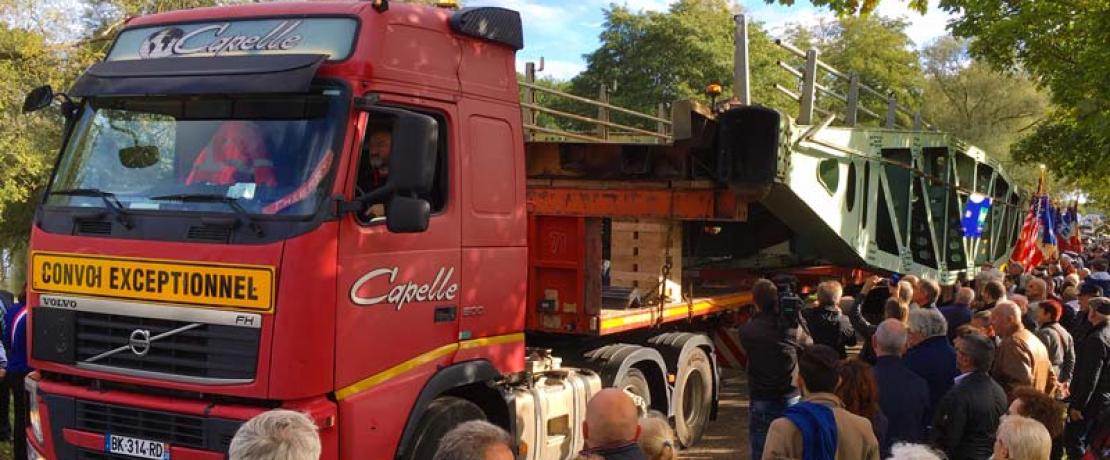 « Baleines » Transport - 1944 Bridge
Transport of the structure of a metal bridge
The metal structures dating from the Second World War, called « Baleines » (whales), made up in 1944 the Arromanches landing stage then they served as a bridge connecting Cattenom to Kœnigsmacker during almost 50 years!
The Capelle group had the privilege of transporting the pieces of the bridge for their return journey between Cattenom and Arromanches on September 30th.
Transport of the bridge under high cover
More than just transporting metal structures, media coverage in Grand Est and Normandy was important. The story relating to these pieces marked the two regions. In the spotlight from Sunday 29 September, the teams (3 SPL drivers, 6 VP #Europilot Car, 1 sales representative and 1 traffic manager were mobilized to supervise the "False Start" of the convoy in the presence of the authorities, veterans and a crowd of curious people gathered for the event around our trucks.
815 km covered, a path full of pitfalls
The pieces were over 20 meters long and 4.7m wide, as much as the drivers had to be skillful. And it was with a few adventures that they spent the 3 stages: barred road, crossing of the Paris region, capricious weather, refueling outside petrol stations.
The Capelle network mobilized
For a convoy of this type, no less than 4 agencies were mobilized: Luxembourg (global management), Sélestat, Alès and EuroPilot Car (our subsidiary specialized in the guidance of convoys). Almost 9 months of negotiations and preparation led to a flawless result.
We congratulate all the teams who have mastered this project end-to-end.